Biking 2013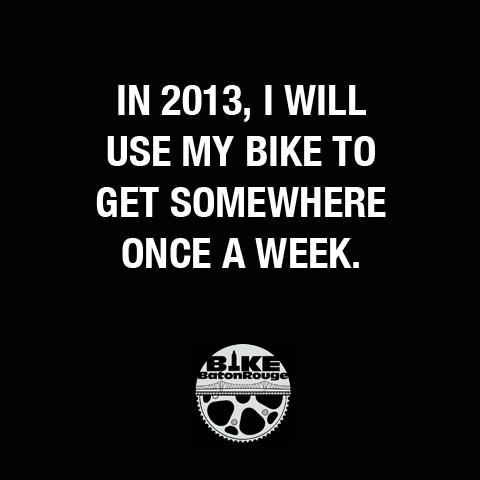 Bike Baton Rouge posted a picture in Facebook on New Year's Eve (2012). The picture suggested a new year's resolution of biking once a week to get somewhere. The idea seemed to be to replace a car trip with a bike trip. I figured once a week was easy, so I decided to make it my resolution and to log my trips to make sure I'm following through with it.
This meant collecting data, so I thought I'd include some additional information beyond the yes/no of taking a trip in a certain week. Total miles, temperature, destination, and what I locked up to ("parking"). I also calculated how many gallons of gas I saved by not driving my Prius.
In the first month, I noticed I didn't really go to places close enough to realistically replace a car trip with a bike trip once per week. Grocery shopping is a once-per-week activity, but I didn't have bike cargo room. But it was great news when, in early February, my work location moved closer to home. Then I could bike every weekday. At some point, I started using a mobile app to track my miles. It was rather inaccurate, but the errors should average out over the time I did use it.
Distance
I think a step line graph is in order. Weekends are greyed.
In 2013, I biked 1,600.5 miles (2,575.7 km). Not too shabby. This is how far that is if I could bike in a straight line (if I lived at the center of this circle).
2575749
Raw data
One thing to realize in the following table is that "gas saved" assumes I would have driven my car the same distance as I biked. This is likely not entirely accurate as there tends to be more driving around to find parking whereas locking up a bike can be done near business entrances. But with trips on this small scale, this is pretty negligible. The biggest difference is probably that biking has caused me to visit local places more than I would have if I drove.
Week
Date
Temp. (°F)
Destination
Parking
Total
miles
Gas saved
(gal.)
$ saved
01
Jan 4 (Fri)
46, 50
Elude Salon
light post
8.8
0.180
0.56
Jan 5 (Sat)
50
Whole Foods, Calandro's
bike rack, gas meter
8.0
0.163
0.51
04
Jan 21 (Mon)
63
Truly Free Bakery
fence
6.8
0.139
0.43
Jan 25 (Fri)
55
Radio Bar
bike rack
1.4
0.029
0.09
05
Jan 31 (Thu)
52
Country Corner
none
1.0
0.020
0.06
Feb 1 (Fri)
55, 60
Radio Bar
bike rack
1.4
0.029
0.09
06
Feb 4 (Mon)
55
work
bike rack
6.1
0.125
0.39
Feb 5 (Tue)
65, 70
work
bike rack
6.1
0.125
0.39
Feb 6 (Wed)
55, 65
work
bike rack
6.1
0.125
0.39
Feb 7 (Thu)
60, 65
work
bike rack
6.1
0.125
0.39
65
Country Corner
none
1.0
0.020
0.06
Feb 8 (Fri)
55, 60
work
bike rack
6.1
0.125
0.39
07
Feb 17 (Sun)
60
First Church of Christ Scientist
light pole
1.4
0.029
0.09
08
Feb 18 (Mon)
58, 63
Gordon and Sandifer
none
3.4
0.069
0.22
Feb 19 (Tue)
54, 63
work
bike rack
6.0
0.122
0.39
63, 54
Ingleside United Methodist Church
power pole
2.6
0.053
0.17
Feb 20 (Wed)
48, 55
work
bike rack
6.1
0.125
0.39
Feb 21 (Thu)
54, 70
work
inside
6.1
0.125
0.39
Feb 22 (Fri)
61, 59
work
inside
6.1
0.125
0.39
09
Feb 25 (Mon)
63
work
inside
6.1
0.125
0.39
Feb 26 (Tue)
47, 54
work
bike rack
6.1
0.125
0.39
Feb 27 (Wed)
43, 67
work
bike rack
6.1
0.125
0.39
Feb 28 (Thu)
46, 50
work
bike rack
6.1
0.125
0.39
Mar 1 (Fri)
48, 56
work
bike rack
6.1
0.125
0.39
10
Mar 4 (Mon)
58, 67
work
bike rack
6.1
0.125
0.46
Mar 5 (Tue)
65, 70, 60
work, BREC Expressway Center
bike racks
7.0
0.143
0.52
Mar 6 (Wed)
46, 60
work
bike rack
6.1
0.125
0.46
Mar 7 (Thu)
46, 65
work
bike rack
6.1
0.125
0.46
Mar 8 (Fri)
54, 70
work
bike rack
6.1
0.125
0.46
11
Mar 11 (Mon)
44, 57
work
bike rack
6.1
0.125
0.46
Mar 12 (Tue)
48, 66
work
bike rack
6.1
0.125
0.46
Mar 13 (Wed)
52, 66
work
bike rack
6.1
0.125
0.46
62, 52
Chelsea's Café
bike rack
2.6
0.053
0.19
Mar 14 (Thu)
46, 68
work
bike rack
6.3
0.129
0.47
56
Manship Theatre
post
2.6
0.053
0.19
Mar 15 (Fri)
55, 73
work
bike rack
6.1
0.125
0.46
12
Mar 18 (Mon)
70, 80
work
bike rack
6.1
0.125
0.46
Mar 19 (Tue)
56, 75
work
bike rack
6.0
0.122
0.45
Mar 20 (Wed)
52, 70
work
inside
6.0
0.122
0.45
67
Country Corner
none
1.0
0.020
0.07
Mar 21 (Thu)
49, 62
work
bike rack
6.1
0.125
0.46
Mar 22 (Fri)
60, 73
work
bike rack
6.1
0.125
0.46
13
Mar 25 (Mon)
40, 58
work
bike rack
6.1
0.125
0.44
Mar 26 (Tue)
43, 54
work
bike rack
6.1
0.125
0.44
Mar 27 (Wed)
42, 62
work
bike rack
6.1
0.125
0.44
Mar 28 (Thu)
49, 70
work
bike rack
6.1
0.125
0.44
Mar 29 (Fri)
53, 75
work
bike rack
6.1
0.125
0.44
74
Country Corner
none
1.0
0.020
0.07
Mar 30 (Sat)
60, 68
Elude Salon
light post
8.8
0.180
0.63
14
Apr 1 (Mon)
58, 77
work
bike rack
6.1
0.125
0.44
Apr 2 (Tue)
58, 73
work
bike rack
6.1
0.125
0.44
Apr 3 (Wed)
62, 56
work
bike rack
6.1
0.125
0.44
Apr 4 (Thu)
51
work
bike rack
6.1
0.125
0.44
Apr 5 (Fri)
49, 63
work
bike rack
6.1
0.125
0.44
65
Country Corner
none
1.0
0.020
0.07
15
Apr 8 (Mon)
67, 80
work
bike rack
6.1
0.125
0.44
Apr 9 (Tue)
74, 80
work
bike rack
6.1
0.125
0.44
Apr 10 (Wed)
75, 81, 75
work, Chelsea's Café
bike racks
6.6
0.135
0.47
Apr 11 (Thu)
74, 64
work
bike rack
6.1
0.125
0.44
Apr 12 (Fri)
55, 74
work
bike rack
6.1
0.125
0.44
Apr 13 (Sat)
76
Country Corner
none
1.0
0.020
0.07
16
Apr 15 (Mon)
67, 76
work
bike rack
6.1
0.125
0.44
Apr 16 (Tue)
75, 82
work
bike rack
6.1
0.125
0.44
Apr 17 (Wed)
73, 85
work
bike rack
6.1
0.125
0.44
Apr 18 (Thu)
76, 80
work, Country Corner
bike rack, none
6.3
0.129
0.45
Apr 19 (Fri)
48, 60
work
bike rack
6.1
0.125
0.44
Apr 21 (Sun)
71, 56
Radio Bar
bike rack
1.4
0.029
0.10
17
Apr 22 (Mon)
61, 79
work
bike rack
6.1
0.125
0.44
Apr 23 (Tue)
70, 80
work
bike rack
6.1
0.125
0.44
Apr 24 (Wed)
69, 60
work
bike rack
6.1
0.125
0.44
Apr 25 (Thu)
54, 71
work
bike rack
6.1
0.125
0.44
Apr 26 (Fri)
65, 75
work
bike rack
6.1
0.125
0.44
18
Apr 29 (Mon)
67, 80
work
bike rack
6.1
0.125
0.44
Apr 30 (Tue)
68, 69
work
bike rack
6.1
0.125
0.44
May 1 (Wed)
69, 77
work
bike rack
6.1
0.125
0.44
May 2 (Thu)
67, 73
work
bike rack
6.1
0.125
0.44
May 3 (Fri)
54
work
bike rack
6.1
0.125
0.44
May 4 (Sat)
71
Calandro's
gas meter
3.2
0.065
0.23
19
May 6 (Mon)
64, 75
work
bike rack
6.1
0.125
0.44
May 7 (Tue)
67, 80
work
bike rack
6.1
0.125
0.44
May 8 (Wed)
70, 80, 70
work, Chelsea's Café
bike racks
6.7
0.137
0.48
May 9 (Thu)
74, 80
work
bike rack
6.1
0.125
0.44
78
Country Corner
none
1.0
0.020
0.07
May 10 (Fri)
67
work
bike rack
6.1
0.125
0.44
68, 64
MidCity Bikes, Radio Bar
inside, bike rack
1.4
0.029
0.10
May 11 (Sat)
77
Bet-R Store
bike rack
2.9
0.059
0.19
20
May 13 (Mon)
67, 79
work
bike rack
6.1
0.125
0.40
May 14 (Tue)
72, 82
work
bike rack
6.1
0.125
0.40
May 15 (Wed)
70, 79
work
bike rack
6.1
0.125
0.40
May 16 (Thu)
73, 83
work
bike rack
6.2
0.127
0.41
May 17 (Fri)
78, 84
work
bike rack
6.2
0.127
0.41
21
May 20 (Mon)
81, 89
work
bike rack
6.2
0.127
0.41
87
Country Corner
none
1.0
0.020
0.07
May 21 (Tue)
81, 88
work
bike rack
6.2
0.127
0.41
88
Calandro's
gas meter
2.4
0.049
0.16
May 22 (Wed)
68, 80
work
bike rack
6.2
0.127
0.41
May 23 (Thu)
73, 87
work
bike rack
6.2
0.127
0.41
May 24 (Fri)
79, 86
work
bike rack
6.2
0.127
0.41
85, 80
Rock-n-Sake
bike rack
3.0
0.061
0.20
22
May 28 (Tue)
81
work
bike rack
6.2
0.127
0.41
81
Country Corner
none
1.0
0.020
0.07
May 29 (Wed)
80, 81
work
bike rack
6.2
0.127
0.41
May 30 (Thu)
79, 83
work
bike rack
6.2
0.127
0.41
May 31 (Fri)
79, 85
work
bike rack
6.2
0.127
0.41
85, 79
Radio Bar
bike rack
1.4
0.029
0.09
23
Jun 3 (Mon)
78, 89
work
bike rack
6.2
0.127
0.41
Jun 4 (Tue)
77, 90
work
bike rack
6.2
0.127
0.41
Jun 5 (Wed)
78, 87
work
bike rack
6.2
0.127
0.41
24
Jun 10 (Mon)
79, 88
work
bike rack
6.2
0.127
0.44
Jun 11 (Tue)
80, 91
work
bike rack
6.2
0.127
0.44
Jun 12 (Wed)
82, 91, 81
work, Chelsea's Café
bike racks
6.8
0.139
0.49
Jun 13 (Thu)
82, 91
work
bike rack
6.2
0.127
0.44
Jun 14 (Fri)
84, 92
work
bike rack
6.2
0.127
0.44
Jun 15 (Sat)
91
-
-
1.0
0.020
0.07
Jun 16 (Sun)
86
seed collecting
-
1.3
0.027
0.09
25
Jun 17 (Mon)
83, 86
work
bike rack
6.2
0.127
0.44
Jun 18 (Tue)
81, 91
work
bike rack
6.2
0.127
0.44
90
Country Corner
none
1.0
0.020
0.07
Jun 20 (Thu)
81, 89
work
bike rack
6.2
0.127
0.44
Jun 21 (Fri)
79, 90
work
bike rack
6.2
0.127
0.44
Jun 22 (Sat)
88
Country Corner
none
1.0
0.020
0.07
26
Jun 24 (Mon)
83, 87
work
bike rack
6.2
0.127
0.44
Jun 25 (Tue)
83, 89
work
bike rack
6.2
0.127
0.44
Jun 26 (Wed)
84, 91
work
bike rack
6.2
0.127
0.44
Jun 27 (Thu)
84, 93
work
bike rack
6.2
0.127
0.44
Jun 28 (Fri)
81, 92
work, Country Corner
bike rack, none
6.4
0.131
0.46
Jun 30 (Sun)
91
Calandro's
gas meter
2.4
0.049
0.17
27
Jul 1 (Mon)
79, 85
work
bike rack
6.2
0.127
0.44
82, 74
friends'
none
1.6
0.033
0.11
Jul 2 (Tue)
78, 83
work
bike rack
6.2
0.127
0.44
Jul 3 (Wed)
78, 75
work
bike rack
6.2
0.127
0.44
Jul 5 (Fri)
80, 82
work
bike rack
6.2
0.127
0.44
Jul 6 (Sat)
81
Calandro's
gas meter
2.6
0.053
0.19
28
Jul 8 (Mon)
76, 88
work
bike rack
6.2
0.127
0.44
Jul 9 (Tue)
82, 91
work
bike rack
6.2
0.127
0.44
Jul 10 (Wed)
84, 92, 83
work, Chelsea's Café
bike racks
6.8
0.139
0.49
Jul 11 (Thu)
83, 74
work
bike rack
6.2
0.127
0.44
Jul 12 (Fri)
79, 92
work
bike rack
6.2
0.127
0.44
91, 74
friend's
none
4.3
0.088
0.31
29
Jul 15 (Mon)
80, 75
work
bike rack
6.2
0.127
0.44
Jul 16 (Tue)
77, 81
work
bike rack
6.2
0.127
0.44
79
Calandro's
gas meter
2.4
0.049
0.17
Jul 17 (Wed)
80, 89
work
bike rack
6.2
0.127
0.44
Jul 18 (Thu)
82, 89
work
bike rack
6.2
0.127
0.44
Jul 19 (Fri)
81, 83
work
bike rack
6.2
0.127
0.44
83, 77
Rock-n-Sake
bike rack
3.0
0.061
0.21
Jul 20 (Sat)
83
Country Corner
none
1.0
0.020
0.07
30
Jul 22 (Mon)
85
work
bike rack
6.2
0.127
0.44
86
Country Corner
none
1.0
0.020
0.07
Jul 23 (Tue)
85, 90
work
bike rack
6.2
0.127
0.44
Jul 24 (Wed)
82, 91, 86
work, Chelsea's Café
bike racks
6.8
0.139
0.49
Jul 25 (Thu)
81, 91
work
bike rack
6.2
0.127
0.44
Jul 26 (Fri)
78, 90
work
bike rack
6.2
0.127
0.44
Jul 28 (Sun)
94
Bet-R Store
bike rack
2.9
0.059
0.21
92
-
-
2.0
0.041
0.14
31
Jul 29 (Mon)
83, 91
work
bike rack
6.2
0.127
0.44
90
Albertson's
fence
3.4
0.069
0.24
Jul 30 (Tue)
82, 92
work
bike rack
6.2
0.127
0.44
Jul 31 (Wed)
82, 93
work
bike rack
6.2
0.127
0.44
Aug 1 (Thu)
82, 91
work
bike rack
6.2
0.127
0.44
Aug 2 (Fri)
82, 90
work
bike rack
6.2
0.127
0.44
32
Aug 5 (Mon)
83, 92
work
bike rack
6.2
0.127
0.44
Aug 7 (Wed)
83, 93
work
bike rack
6.2
0.127
0.44
Aug 8 (Thu)
84, 93
work
bike rack
6.2
0.127
0.44
Aug 9 (Fri)
85, 83
work
bike rack
6.2
0.127
0.44
83
Country Corner
none
1.0
0.020
0.07
81, 78
Mud and Water
bike rack
3.4
0.069
0.24
33
Aug 12 (Mon)
83, 78
work
bike rack
6.2
0.127
0.43
Aug 13 (Tue)
84
work
bike rack
6.2
0.127
0.43
Aug 14 (Wed)
78, 75
work, Chelsea's Café
bike racks
6.8
0.139
0.47
Aug 15 (Thu)
75, 87
work
bike rack
6.2
0.127
0.43
Aug 16 (Fri)
74, 88
work
bike rack
6.2
0.127
0.43
88
Radio Bar
bike rack
0.7
0.014
0.05
Aug 17 (Sat)
78
Chelsea's Café
bike rack
2.6
0.053
0.18
73
friends'
none
1.6
0.033
0.11
Aug 18 (Sun)
76
friends'
none
0.8
0.016
0.05
34
Aug 19 (Mon)
76, 87
work
bike rack
6.2
0.127
0.43
Aug 20 (Tue)
78, 80
work
bike rack
6.2
0.127
0.43
Aug 21 (Wed)
78, 77
work
bike rack
6.2
0.127
0.43
77
Country Corner
none
1.0
0.020
0.07
Aug 22 (Thu)
79, 89
work
bike rack
6.2
0.127
0.43
Aug 23 (Fri)
78
work
bike rack
3.1
0.063
0.21
87, 80
Walk-On's, LSU Soccer Stadium
fences
7.0
0.143
0.48
35
Aug 26 (Mon)
76, 79
work
bike rack
6.2
0.127
0.43
Aug 27 (Tue)
76
work
bike rack
3.1
0.063
0.21
87, 78
Walk-On's, LSU Soccer Stadium
fences
7.0
0.143
0.48
Aug 28 (Wed)
78
work
bike rack
3.1
0.063
0.21
88, 85
Elude Salon
light post
11.6
0.237
0.80
Aug 29 (Thu)
80, 89
work
bike rack
6.2
0.127
0.43
Aug 30 (Fri)
76
work
bike rack
3.1
0.063
0.21
91
Walk-On's
fence
4.8
0.098
0.33
88
Rock-n-Sake
bike rack
3.0
0.061
0.21
Sep 1 (Sun)
89, 79
Radio Bar
bike rack
1.4
0.029
0.10
36
Sep 3 (Tue)
82, 76
work
bike rack
6.2
0.127
0.43
Sep 4 (Wed)
81, 78
work
bike rack
6.2
0.127
0.43
Sep 5 (Thu)
80
work
bike rack
6.2
0.127
0.43
81
Country Corner
none
1.0
0.020
0.07
Sep 6 (Fri)
78, 82
work
bike rack
6.2
0.127
0.43
79
Country Corner
none
1.0
0.020
0.07
Sep 7 (Sat)
97
-
-
7.2
0.147
0.49
37
Sep 9 (Mon)
77
work
bike rack
3.1
0.063
0.21
Sep 10 (Tue)
79, 87
work
bike rack
6.2
0.127
0.43
Sep 11 (Wed)
79, 90
work
bike rack
6.2
0.127
0.43
89, 85
Boudreaux's
power pole
1.1
0.022
0.08
Sep 12 (Thu)
79, 91
work
bike rack
6.2
0.127
0.43
89
Country Corner
none
1.0
0.020
0.07
Sep 13 (Fri)
81, 91
work
bike rack
6.2
0.127
0.43
38
Sep 16 (Mon)
82, 88
work
bike rack
6.2
0.127
0.43
Sep 17 (Tue)
81, 90
work
bike rack
6.5
0.133
0.45
87
Country Corner
none
1.0
0.020
0.07
Sep 18 (Wed)
75, 84
work
bike rack
6.2
0.127
0.43
84
Country Corner
none
1.0
0.020
0.07
Sep 19 (Thu)
82, 83
work
bike rack
6.2
0.127
0.43
Sep 20 (Fri)
82, 83
work
bike rack
6.2
0.127
0.43
39
Sep 23 (Mon)
70, 85
work
bike rack
6.5
0.133
0.45
Sep 24 (Tue)
81
Garden District Nursery
-
0.8
0.016
0.05
81, 84
work
bike rack
6.1
0.125
0.42
Sep 25 (Wed)
75, 89
work
bike rack
6.5
0.133
0.45
87, 78, 74
friends', Chelsea's Café
none, bike rack
4.3
0.088
0.29
Sep 26 (Thu)
72, 87
work
bike rack
6.5
0.133
0.45
Sep 27 (Fri)
72, 86
work
bike rack
6.5
0.133
0.45
83, 77
Rock-n-Sake
bike rack
3.0
0.061
0.21
40
Sep 30 (Mon)
74, 75
work
bike rack
6.2
0.127
0.43
Oct 1 (Tue)
72, 76
work
bike rack
6.5
0.133
0.45
Oct 2 (Wed)
74, 85, 82
work, DDD
bike rack, tree
10.4
0.212
0.71
79
Country Corner
none
1.0
0.020
0.07
Oct 3 (Thu)
73, 84
work
bike rack
6.8
0.139
0.47
Oct 4 (Fri)
74
work
bike rack
3.4
0.069
0.23
41
Oct 7 (Mon)
61, 74
work
bike rack
7.6
0.155
0.52
Oct 8 (Tue)
61, 77
work
bike rack
9.0
0.184
0.62
66
Country Corner
none
1.0
0.020
0.07
Oct 9 (Wed)
62, 81, 62
work, Chelsea's Café
bike racks
10.1
0.206
0.69
Oct 10 (Thu)
66, 78
work
bike rack
7.1
0.145
0.49
Oct 11 (Fri)
69, 82
work
bike rack
6.8
0.139
0.47
78
Radio Bar
bike rack
1.7
0.035
0.12
42
Oct 14 (Mon)
73, 81
work
bike rack
8.7
0.178
0.60
Oct 15 (Tue)
70, 82
work
bike rack
8.2
0.167
0.56
Oct 16 (Wed)
75, 79
work
bike rack
9.3
0.190
0.64
Oct 17 (Thu)
66, 64
work, Manship Theatre
bike racks
9.2
0.188
0.63
Oct 18 (Fri)
61, 70
work
bike rack
7.8
0.159
0.53
71
Inga's Subs
bike rack
2.2
0.045
0.15
68, 63
friend's
none
4.1
0.084
0.28
43
Oct 21 (Mon)
59, 68
work
bike rack
7.6
0.155
0.52
Oct 22 (Tue)
65, 68
work
bike rack
6.6
0.135
0.45
Oct 23 (Wed)
59
work
bike rack
4.7
0.096
0.32
75, 71
Elude Salon
light post
12.3
0.251
0.84
Oct 24 (Thu)
60, 77
work
bike rack
7.6
0.155
0.52
Oct 25 (Fri)
54
work
bike rack
3.4
0.069
0.23
68
Hello Sushi
light post
0.9
0.018
0.06
44
Oct 28 (Mon)
64, 78
work
bike rack
8.0
0.163
0.55
Oct 29 (Tue)
65, 75
work
bike rack
7.3
0.149
0.50
Oct 30 (Wed)
66, 77
work
bike rack
7.3
0.149
0.50
Oct 31 (Thu)
74, 73
work
bike rack
6.8
0.139
0.47
Nov 1 (Fri)
61
work
bike rack
3.5
0.071
0.24
71
Hello Sushi
light post
1.2
0.024
0.08
Nov 2 (Sat)
69, 72, 67
various
various
13.6
0.278
0.93
45
Nov 4 (Mon)
58, 68
work
bike rack
7.4
0.151
0.51
Nov 5 (Tue)
66, 70
work
bike rack
7.0
0.143
0.48
68
Country Corner
none
1.0
0.020
0.07
Nov 6 (Wed)
64, 73
work
bike rack
6.9
0.141
0.47
Nov 7 (Thu)
52, 59
work
bike rack
7.0
0.143
0.48
Nov 8 (Fri)
50
work
bike rack
3.4
0.069
0.23
58
Hello Sushi
light post
1.2
0.024
0.08
46
Nov 11 (Mon)
60, 67
work
bike rack
6.8
0.139
0.47
Nov 12 (Tue)
60, 55
work
bike rack
6.4
0.131
0.44
Nov 13 (Wed)
37, 52, 39
work, Chelsea's Café
bike racks
8.2
0.167
0.56
Nov 14 (Thu)
47, 60
work
bike rack
6.8
0.139
0.47
Nov 15 (Fri)
60, 66
work, Hello Sushi
bike rack, light post
4.8
0.098
0.33
Nov 16 (Sat)
79, 73
Radio Bar
bike rack
1.8
0.037
0.12
47
Nov 18 (Mon)
65
work
bike rack
3.1
0.063
0.21
68, 60
Manship Theatre
bike rack
7.3
0.149
0.50
Nov 19 (Tue)
52, 61
work
bike rack
7.1
0.145
0.49
Nov 20 (Wed)
51
work
bike rack
3.4
0.069
0.23
71, 56
Manship Theatre, Chelsea's Café
bike rack
12.1
0.247
0.83
Nov 21 (Thu)
61, 67
work
bike rack
6.8
0.139
0.47
66
Country Corner
none
1.0
0.020
0.07
Nov 22 (Fri)
68, 65
work
bike rack
6.6
0.135
0.45
65, 63
Radio Bar
bike rack
1.3
0.027
0.09
48
Nov 25 (Mon)
45, 46
work
bike rack
7.5
0.153
0.51
Nov 26 (Tue)
41, 43
work
bike rack
6.9
0.141
0.47
49
Dec 2 (Mon)
64, 71
work
bike rack
6.8
0.139
0.43
69
Country Corner
none
1.0
0.020
0.06
Dec 3 (Tue)
65, 73
work
bike rack
6.5
0.133
0.41
Dec 4 (Wed)
73, 75
work
bike rack
6.8
0.139
0.43
Dec 5 (Thu)
74, 75
work
bike rack
7.1
0.145
0.45
Dec 6 (Fri)
55, 43
work
bike rack
7.0
0.143
0.44
50
Dec 9 (Mon)
48, 49
work
bike rack
6.5
0.133
0.41
49
Country Corner
none
1.0
0.020
0.06
Dec 10 (Tue)
37, 48
work
bike rack
6.9
0.141
0.43
Dec 11 (Wed)
38, 51, 48
work, Chelsea's Café
bike racks
7.0
0.143
0.44
Dec 12 (Thu)
41, 51
work
bike rack
6.9
0.141
0.43
Dec 13 (Fri)
41, 57
work
bike rack
6.8
0.139
0.43
51
Dec 16 (Mon)
35, 55
work
bike rack
6.7
0.137
0.42
Dec 17 (Tue)
43, 61
work
bike rack
6.4
0.131
0.40
Dec 18 (Wed)
48, 55
work
bike rack
6.4
0.131
0.40
Dec 19 (Thu)
56, 69
work
bike rack
6.6
0.135
0.41
Dec 20 (Fri)
66, 75
work
bike rack
7.1
0.145
0.45
52
Dec 23 (Mon)
42, 46
work
bike rack
6.1
0.125
0.38
01
Dec 30 (Mon)
51
-
-
4.9
0.100
0.32
Dec 31 (Tue)
45
-
-
8.3
0.169
0.54
1,600.5
32.677
110.50